Our Services
Our main goal is to provide our customers with the best possible service and equipment. If you have any questions or are looking for something specific, please contact us and we will be happy to help!
Ski/Snowboard Tuning
From a basic wax to a deluxe stone grinding with specific edge angles and infrared waxing, Zeller's can handle it all. Our expert technical staff has decades of experience doing base repairs from impact damage. P-Tex repair and base punching, we do it all.
Hot wax with Infrared waxer: $19.95 (Reichmann Wax Future machine)
Ski/snowboard base punch: $20.00 (requires full tune)
Ski/Snowboard stone grind/base flattening/base structure (sharpen and wax included) (Montana Crystal Glide S): $64.95 *SNOWBOARDS MUST HAVE NO BINDING ON*

Binding Installation
We are certified to install alpine ski bindings from Salomon, Atomic, Look, Marker, and Tyrolia. We can also install cants under your bindings to get you flat on the ski if you pronate or supinate. For snowboards, we can get your stance width and angles dialed as well as get the proper strap/buckle adjustments to fine tune your board to your liking
Binding mount carry in: $99.95
Ski binding mount W/ in store purchase: $29.95
Snowboard binding mount: $29.95
Boot Fitting
At Zeller's we pride ourselves on our boot fitting. There's pretty much nothing impossible. From shell manipulation, to buckle repair, to varying other fitting aides, the best part of your day doesn't have to be when your boots come off.
Boot blowout (Boot Doc device): $10.00
Boot liner mold: $50.00
Top Surface Repair
Do you have damage to your top sheet? We can fix that! Epoxy fills happen on a weekly basis in our tech area.
Ski/snowboard top sheet repair: $60/hr ($10 min)
Rack Install
We carry Thule premium products to safely transport you, your family and your gear wherever your adventures take you. Once your base rack is on, the sky is the limit. Rooftop tents, kayak saddles, bike racks, luggage boxes, YOU NAME IT!
Rooftop rack installation: $20-$50 (included with purchase)
Kayak Repair
Broken seat, damaged rudder/skeg, overstretched deck line/bungee, hull damage, we've seen it all. We've been doing it since the 90's. As long as a viable replacement part is available, we can install it.
Kayak labor: $60/hr ($10 min)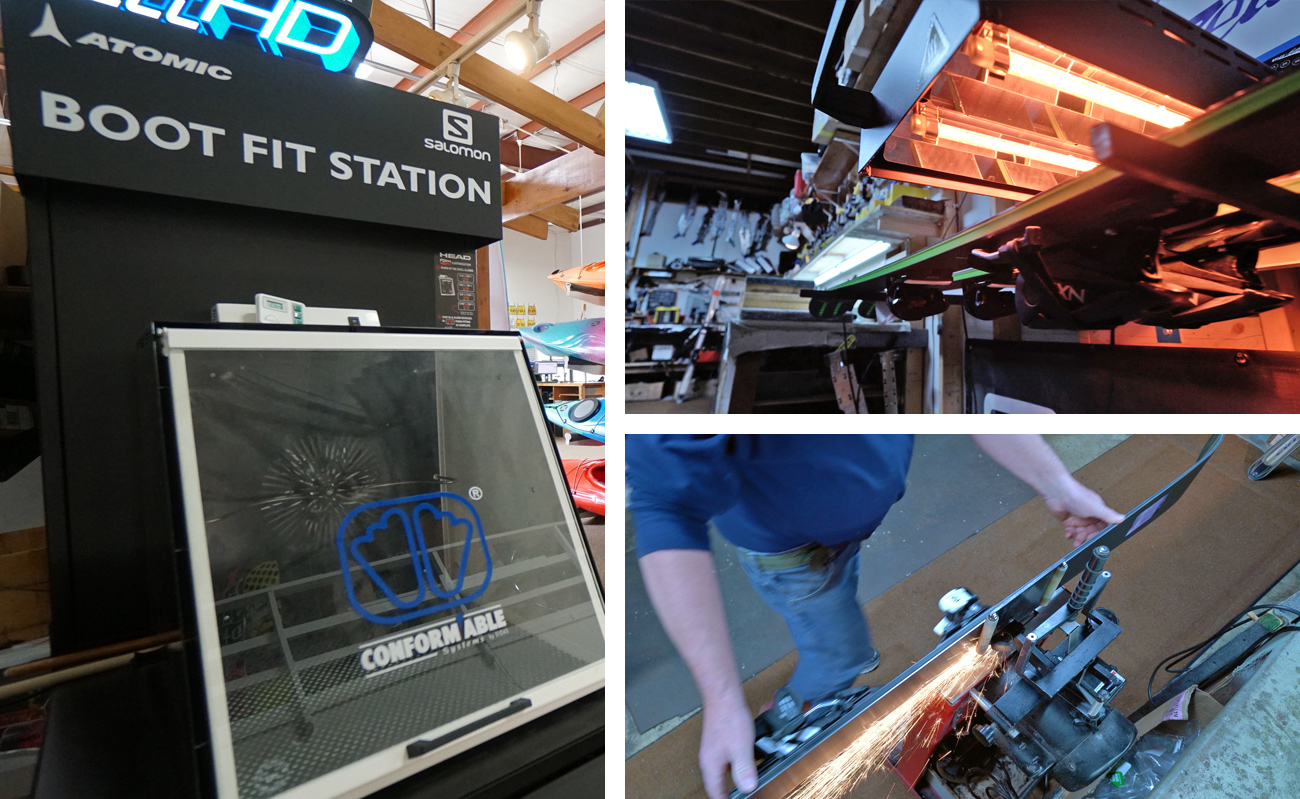 Questions about our services?
Call us at 920-435-9562 for more information!