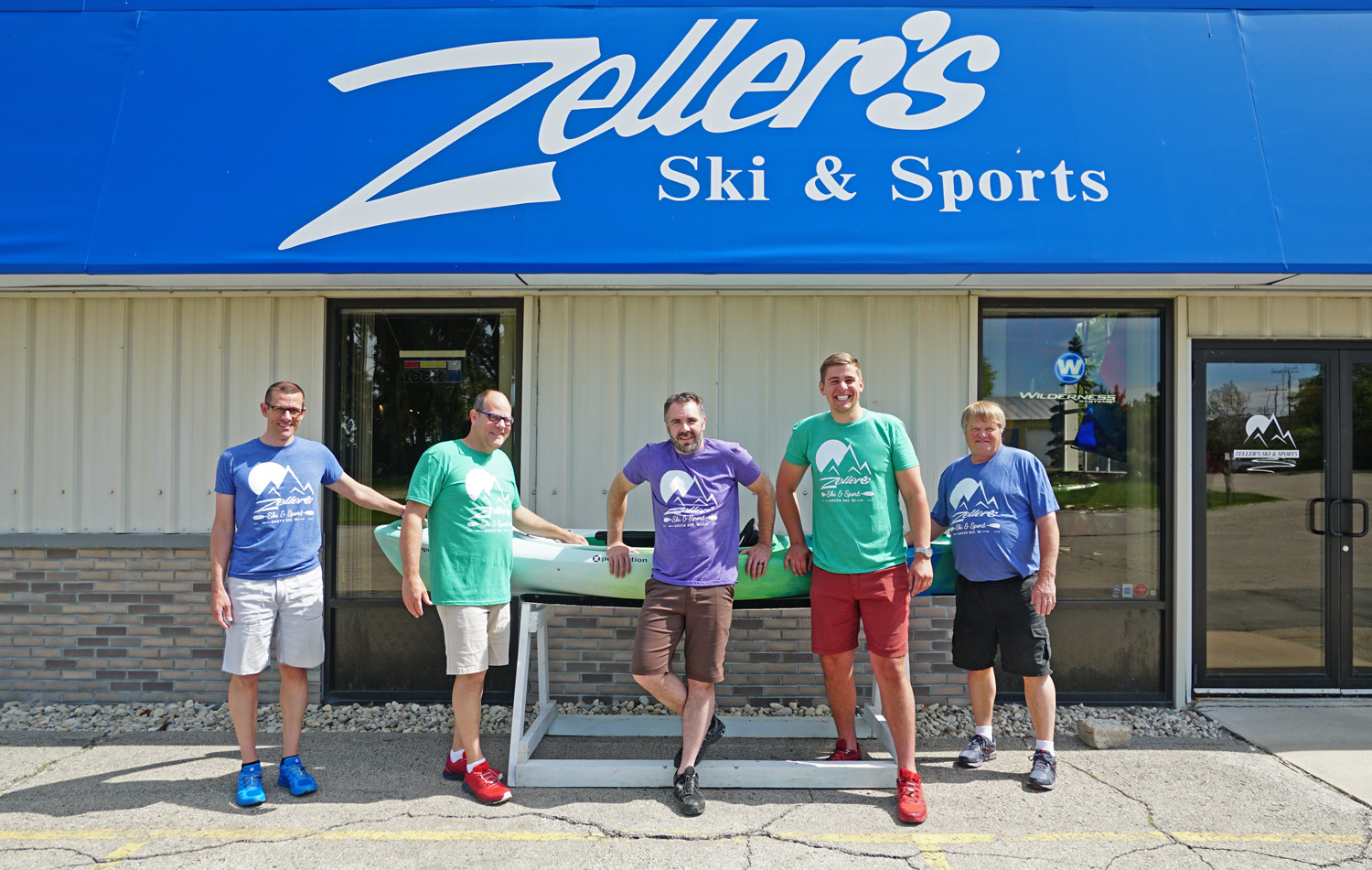 We are a 3rd generation, 70-year-old specialty retailer.
We have been selling downhill and cross country skis since the 1950's. We were quick to jump on the snowboard wagon in the early 90's. In the late 90's, we dove into the kayak business and are now one of the largest specialty paddle shops in Northeastern Wisconsin.  We offer the only on water location in the area. In 2009 we started selling S.U.P.'s (Stand Up Paddle boards) and are watching that grow exponentially every year.
Our main goal is to provide the best possible equipment and the best possible prices all while giving the best customer service you could ask for. Our full-time staff has collectively over 90 year's experience, and our part-time staff comes back year after year.
What separates us from other sporting goods stores is our dedication to our sports. We only sell what we do, therefore we know all of our products inside and out.
Chris: Owner
Chris Started working at the shop in 1981. As a 3rd generation Zeller, he has enjoyed seeing the shop adapt to the changing wintersport industry. He and his brother David and sister Ann purchased the store from their aunt and uncle and mother in 1995. Under the new regime of Zeller's, they brought in the paddles port side of the business in 1997, growing the shop into one of the largest kayak/S.U.P. dealers in the Midwest. Chris has enjoyed watching the 4th generation of Zeller's (his niece Abby, nephew Nate, and Daughter Alyssa) start working at the store, making it truly a family business. In his time away from the store Chris enjoys power boating, paddles ports and spending time with his family at their vacation home in Door County.
GEAR:
Skis: Rossignol Hero Elite TI+, Rossignol Experience 86Ti, Head Kore 105
Boots: Rossignol All-Track 130 Pro
Poles: Scott World Cup
Goggles: Scott Notice OTG
Outerwear: Picture  Action Jacket and Pant
Helmet: Giro Union  MIPS
Home Hill: Pine Mountain
Favorite Resorts: Squaw Valley, Deer Valley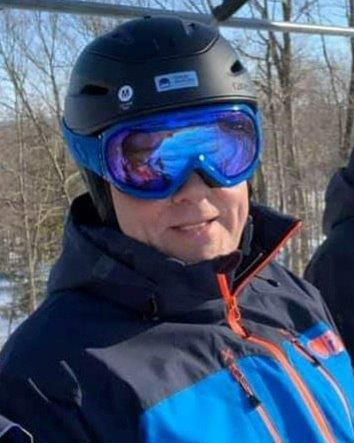 David: Owner
David started at the shop in 1983. After purchasing the store from his aunt, uncle and mother in 1995 with his brother Chris and sister Ann, they moved to our current location and brought in the paddle sport business. David has taken many heli/cat trips to resorts in UT,CO,and WA. He has also done quite a few long distance paddles including a Lake Michigan crossing from Manistique, MI to Harbor Springs, MI, trips up to Door County from Green Bay to Egg Harbor, and Green Bay crossings from Egg Harbor to Menominee, MI. In his time away from the store, he enjoys S.U.P.ing, water recreation in Door County, and cycling.
GEAR:
Skis: Rossignol Hero Elite MT Ti, Head Kore 93
Boots: Atomic Hawx Ultra 130
Poles: Scott World Cup
Goggles: Scott Notice OTG, Salomon S Max
Outerwear: Burton AK Gore STK Jacket, Burton AK Gore Pant
Helmet: Giro Grid MIPS
Gloves: Seirus Hellfire
Home Hill: Granite Peak
Favorite Resorts: Mount Bailey OR, Whistler, BC Powder Mountain UT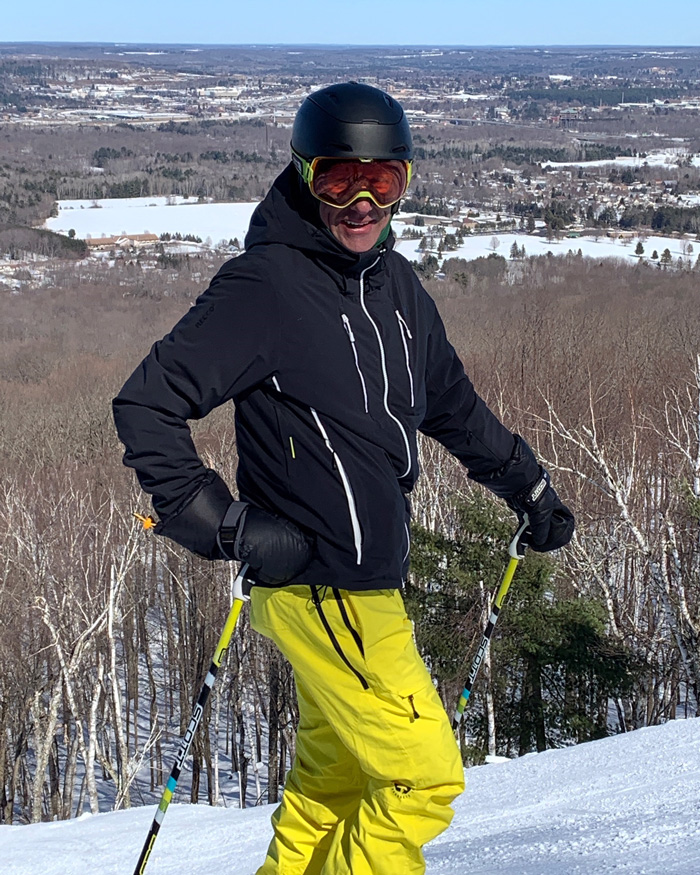 Ben: General Manager
Ben started in the ski industry in 1995, when companies were first trying out the whole "Parabolic" ski shapes. With stints working for Salomon, K2 and Nordica, as well as freestyle competition in his younger years, as well as being featured in Powder Magazine and Ski Time. He has been back at the shop full-time since 2006. Outside of work, Ben enjoys cycling, paddlesports, and spending time with his family.
GEAR:
Skis: Atomic S9 F.I.S, Salomon Stance 96, Salomon QST Blank, Atomic Maverick 95 TI
Boots: Salomon S-Pro 130
Poles: Leki Carbon 14 3D
Goggles: Giro Cotact, Scott LCG, Salomon S-Max Sigma
Snowboard: Jones Mountain Twin, Burton Custom
Bindings: Burton Genesis
Boots: Thirtytwo TM 3
Outerwear: Helly Hansen Garibaldi Infinity Jacket, Helly Hansen Garibaldi Pant, Helly Hansen ULLR Chugach Powder suit, Salomon Outpeak GTX 3L Jacket
Gloves: Hestra Gore Heli Pro
Helmet: Giro Jackson MIPS, Giro Grid MIPS
Home Hill: Granite Peak
Favorite Resorts: Powder Mountain UT, Alta UT, Jackson Hole WY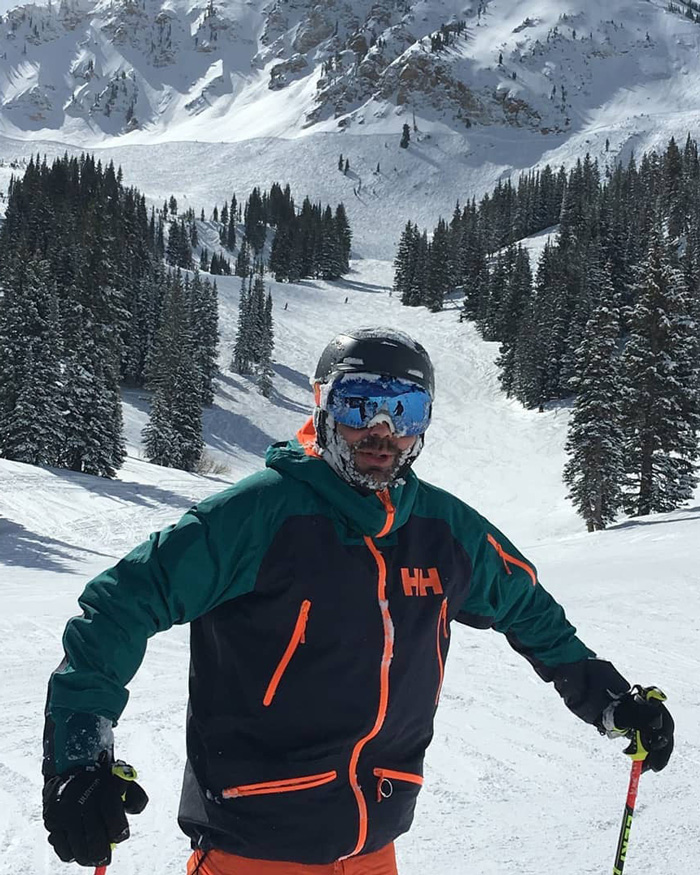 Scott: Assistant Manager/Snowboard Manager
Scott started working in the adventure outdoor retail/snow sports industry in 2012 while an undergraduate at UW-La Crosse. After three years at Three Rivers Outdoor in La Crosse and finishing his degree in 2015, Scott moved and continued his career in the snow sports field to specialty ski shop in San Francisco. He advanced his boot fitting, ski/snowboard selling opportunity along with tuning practices for two years as an assistant manager. Scott joined the Zeller's team in 2015 and in 2018 became the full-time snowboard manager/buyer. Colorado has been a destination for winter sports, specifically split boarding with his dad who lives in Fort Collins. Apart from snowboarding Scott also enjoys cross country skiing and snowshoeing. In summer, Scott spends his time on the water kayaking and SUPing across the Midwest in places such as Door County, WI and Marquette, MI.
GEAR:
Snowboard: Jones Flagship, Lib Tech Orca, Capita Powder Twin
Snowboard Boots: Burton Photon Step On
Alpine Ski: Head Kore 93
Ski Boots: Salomon Quest Access HEAT 90
Poles: Leki Tourstick Vario Carbon
Goggles: Anon M4, Giro Contact, Scott LCG
Outerwear: Burton AK Jacket, Burton AK  Pant
Helmet: Giro Jackson MIPS
Gloves: Burton AK Tech Glove Leather, KOMBI Sanctum mitt
Home Hill: Granite Peak in Wausau
Favorite Resorts: Mary Jane – Winter Park,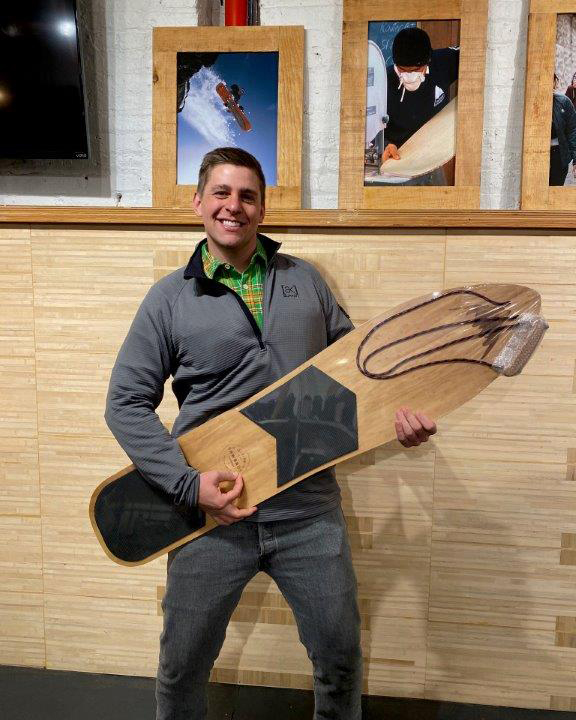 Tom Baeten: Tech/Bookkeeper
Tom started out at the shop in 1982 as a 2 week temporary employee and we haven't been able to get rid of him since. We may be biased, but with over 30 years of experience, he is the best tech you can find. From a basic sharpen and wax  to a complete base rebuild, Tom can do it all and get your ski/board conditioned better than how it came from the factory. He is also a guru at kayak and S.U.P. repair.
Tom's favorite repair job is a punch. When a customer comes in with base damage on their equipment that is past the point of just some p-tex work, a punch is required. A punch actually removes base material and replaces it with new base that is set into place with epoxy. The base is then flattened and we put a new structure in it. By the time he is done your base is completely fresh and ready to shred.
In his spare time, Tom enjoys spending time with his family, hunting, fishing, and watching baseball